News
TSEU LOBBY DAY – WEDNESDAY, APRIL 12 – BE THERE!
LOBBY DAY – WEDNESDAY, APRIL 12 – BE THERE!

(full event schedule is listed below)
Get your ticket NOW – coming from outside of Austin, GET ON THE BUS! 
If you work in Austin, it's easy to be at Lobby Day. For those of us coming from outside of Austin, get on the Lobby Day Bus!  Buses will be coming from ALL parts of Texas, but you need to get your ticket!
OUT OF AUSTIN TICKET:  $15 includes your registration, lunch and a bus ride to and from Austin from just about anywhere in Texas.

AUSTIN AREA TICKET: Those from the Austin area pay $8 which includes registration and lunch only (no transportation)
Purchase using your PayPal account or credit card!  click here
or . . .
Download your ticket and mail it in today! click image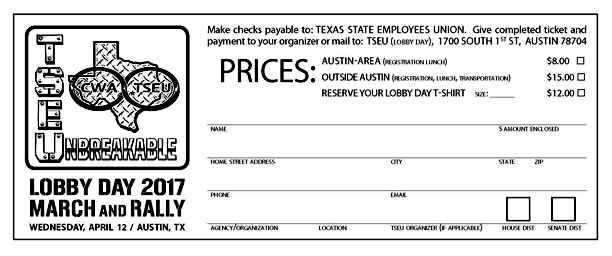 Mail the ticket and a check for your fees to the Austin, TSEU office:
1700 South 1st Street, Austin TX  78704 or deliver to any area TSEU office or your organizer
---
Lobby Day Schedule (Wednesday, April 12)
OUTSIDE OF AUSTIN: Buses arriving from outside of Austin will unload at approximately 9:30 am along the SOUTH side of the Capitol. Departure times will vary and can be confirmed with your local TSEU office or organizer. Bus information will be posted as routes are confirmed.

LOCAL/AUSTIN ATTENDEES: All Austin area attendees should be at the SOUTH side of the Capitol no later than 10:00 am.

FULL SCHEDULE:
10:00    Meet on the SOUTH side of Capitol, lunch served
11:00    Form march contingents
11:30    Begin march around the Capitol
12:00    Begin rally
1:00    Form lobby groups
1:30    First lobby appointment
4:00    Last appointment
---

Lobby Day is our chance to take a stand for the future of Texas and for our jobs. It is a critical part of our ongoing fight for economic and social justice for state workers and citizens. We will meet at the Capitol lawn, march, rally, and then meet with our legislators and present them with our program.
On April 12th, TSEU is calling for a massive show of strength to tell the legislature that we will fight to restore funding for public services, protect state employee benefits, and win a real across-the-board raise.
EVERYTHING IS AT STAKE:
Our Jobs, Our Pensions, Our Health Care, our Pay, and the Services we Provide.
WE NEED YOU TO BE THERE!
.
Want to know a little about what to expect at Lobby Day?
Watch our coverage from our last Lobby Day, in 2015!
Statement of Claude Cummings Jr. on Confirmation of Judge Ketanji Brown Jackson to the U.S. Supreme Court
CWA Joe Beirne Foundation's 2022-2023 Scholarship
Current Company COVID-19 Action Plans & Information